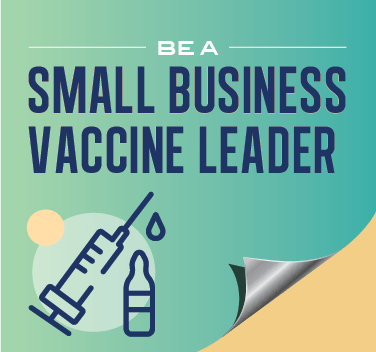 Be a Small Business Vaccine Leader: Join Us 4/6/21
On Tuesday, April 6th at 2:00 PM EDT, Reimagine Main Street will host a launch event regarding the important role small business owners can play in promoting vaccine access, confidence, and equity. As part of the event, we will:
Release results of a survey fielded in conjunction with the U.S. Black Chambers Inc., U.S. Hispanic Chamber of Commerce, and the National Asian/Pacific Islander American Chamber of Commerce and Entrepreneurship;
Hear from several diverse small business owners who are working on this issue;
Launch an education and outreach effort (including tools and tips sheets for Asian American and Pacific Islander, Black, Latin(x), and Native small employers) to encourage more small business leaders to promote vaccinations for their workers and communities; and,
Announce the commitment of hundreds of small business leaders who are taking action in their communities.
We are asking you and all small business owners across the country to pledge your leadership in this area with both your business and community.
By taking the pledge, you are committing to championing the vaccine with your employees and in your community through at least one action that can include getting the vaccine when it is your turn, creating a vaccine plan for you and your employees, or assisting with vaccine promotion and distribution in your community.
Small businesses fully reopening is critical to putting our economy on the path to recovery. We hope you will take the pledge and join us on April 6.