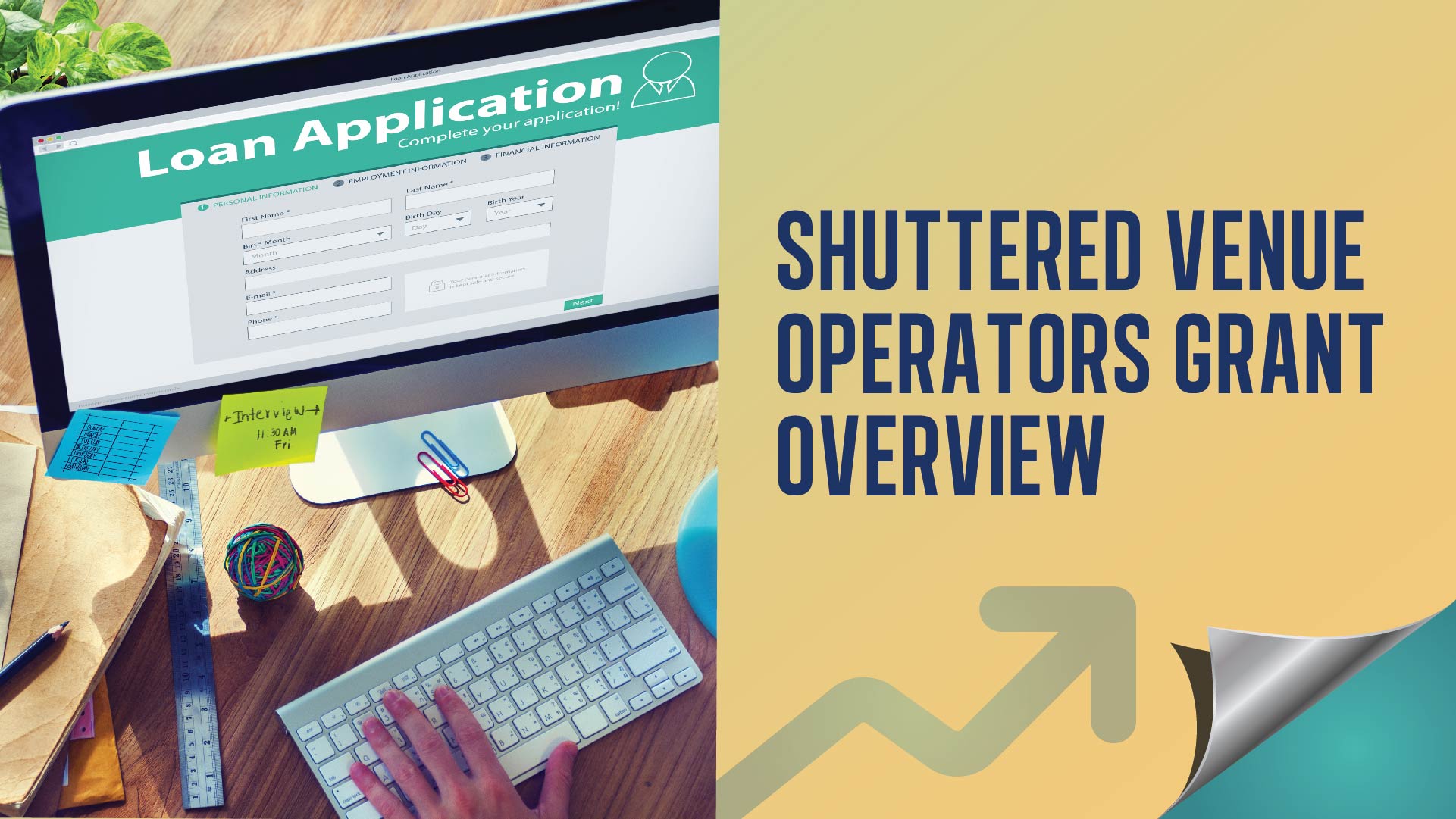 Shuttered Venue Operators Grant (SVOG) Program
Sign up here for free business advisory: SVOG Advisory
The Shuttered Venue Operators Grant (SVOG) program was established by the Economic Aid to Hard-Hit Small Businesses, Nonprofits, and Venues Act, and amended by the American Rescue Plan Act. The program includes over $16 billion in grants to shuttered venues, to be administered by SBA's Office of Disaster Assistance.
Eligible applicants may qualify for grants equal to 45% of their gross earned revenue, with the maximum amount available for a single grant award of $10 million. $2 billion is reserved for eligible applications with up to 50 full-time employees.
The Shuttered Venue Grant is being administered by the Small Business Administration (SBA).
Who is eligible for the Shuttered Venues Grant?
 • Live venue operators or promoters
 • Theatrical producers
 • Live performing arts organization operators
 • Relevant museum operators, zoos, and aquariums who meet specific criteria
 • Motion picture theater operators
 • Talent representatives
Each business entity owned by an eligible entity that also meets the eligibility requirements.
What other eligibility requirements?
 • Must have been in operation as of February 29, 2020
 • Venue or promoter who received a PPP loan on or after December 27, 2020, will have the SVOG reduced by the PPP loan amount
What are the grant amounts?
 • For an eligible entity in operation on January 1, 2019, grants will be for an amount equal to 45% of their 2019 gross earned revenue OR $10 million, whichever is less.
 • For an eligible entity that began operation after January 1, 2019, grants will be for the average monthly gross earned revenue for each full month you were in operation during 2019 multiplied by six (6) OR $10 million, whichever is less.
How do I apply?
Applications will open on April 8th 2021.
Click here for SVOG Technical Assistance
During the first 59 days of opening SVOG, SBA will reserve no less than $2 billion of program funding for grants to entities that have no more than 50 employees.
What are the allowable uses of the funds?
Funds may be used for specific expenses, which include:
• Payroll costs
• Rent payments
• Utility payments
• Scheduled mortgage payments (not including prepayment of principal)
• Scheduled debt payments (not including prepayment of principal on any indebtedness incurred in the ordinary course of business prior to February 15, 2020)
• Worker protection expenditures
• Payments to independent contractors (not to exceed $100,000 in annual compensation per contractor)
• Other ordinary and necessary business expenses, including maintenance costs
• Administrative costs (including fees and licensing)
• State and local taxes and fees
• Operating leases in effect as of February 15, 2020
• Insurance payments
• Advertising, production transportation, and capital expenditures related to producing a theatrical or live performing arts production. (May not be primary use of funds)      
Grantees may not use award funds to:
 • Buy real estate
 • Make payments on loans originated after February 15, 2020
 • Make investments or loans
 • Make contributions or other payments to, or on behalf of, political parties, political committees, or candidates for election
 • Any other use prohibited by the Administrator
What is the grantees' obligation for record-keeping?
Grantees will be required to maintain documentation demonstrating their compliance with the eligibility and other requirements of the SVOG program. They must retain employment records for four years following their receipt of a grant and retain all other records for three years.
What can I do now to prepare for when the applications open up?
 1. Register for a Dun and Bradstreet  (DUNS) number
• Obtaining a DUNS number is a pre-requisite to registering for SAM,
• You cannot use a TIN, EIN or other means of identification for SAM
2. After receiving your DUNS # then register at the federal government's System for Award Management (SAM)
3. Collect documents that prove your eligibility and show your expenses, for PPP and/or RRG
4. Calculate your expected loan or grant using the appropriate calculation
How to register for a DUNS number?
Register online:
• Go to fedgov.dnb.com/webform
• Select "Click here to get your DUNS Number", and follow instructions
• Check whether your business already has a DUNS #, and if not, request a new one
Register by phone:
• Call toll-free number: 1-866-705-5711
• Tell the operator you are applying to a Federal financial assistance program and need a DUNS #
What you need to register:
• Legal name of your business entity
• Address
• Phone number
• Name of the business owner
• Legal structure, e.g. LLC
• Year the entity was created
• Total # of employees, full- and part-time
Is there a fee for a DUNS registration?
• Registration is free
How long does it take to receive a DUNS number?
Typically it takes 2-3 days for you to receive a DUNS number – so register now
How do I register with SAM?
Register online:
• Create a user account at login.gov (the portal through which SAM operates)
• Enter your email address
• Have a working phone number – login.gov will send you a security code
When you register:
When the prompt, "Why are you registering?" appears, select: "I only want to apply for federal assistance opportunities like grants, loans, and other financial assistance programs"
What you need to register:
• DUNS #
• Ownership information
• Bank account information
• Financial information
• Taxpayer Identification Number (TIN) or Employer Identification Number (EIN)
• CAGE/NCAGE (if you do not have one, you will be assigned one during  registration)
• Notarized letter for entity administrations
Do I need to pay for SAM registration?
Registration is free
What other information do I need to register on SAM?
• Self-assertion from each entity, including but not limited to:
1. Data about the types of goods and services your entity provides
2. Entity size
3. Optional Electronic Data Interchange (EDI)
4. Disaster relief data
• Representations and certifications, related to an entity's small business status, and responses to commonly used Federal Acquisition Regulation (FAR), Defense Federal Acquisition Regulation Supplement (DFARS) provisions/clauses, and Architect-Engineer Responses
• Points of contact: you will be asked to provide contact information for all mandatory points-of-contact provided during your registration, including but not limited to:
• Accounts receivable
• Electronic business
• Government business
Small businesses can sign up to receive updates:  Click Here
Preliminary Checklist of Documents:  Click Here
The SBA has developed Tutorials to assist small businesses:
Shuttered Venue Operators Grant Overview
SAM.gov Entity Registration Training
Eligibility for Live Venue Operators or Promoters
Eligibility for Talent Representatives
Eligibility for Museum Operators
Eligibility for Motion Picture Theatre Operators
Eligibility for Live Performing Arts Organization Operators
For additional information visit:  Click here